Submissions are now closed.
Submission Deadline: Sunday, May 7th @ 10:00pm 
Event: Thursday, May 11th @ 7:00pm
*Please note that these dates are tentative and may change in the future.
1. Upload your film to Vimeo (Youtube or other streaming services will NOT be accepted due to the fact that they are not downloadable.)
2. Fill out the submission form. (Submissions for the Winter 2023 Media Night are now closed).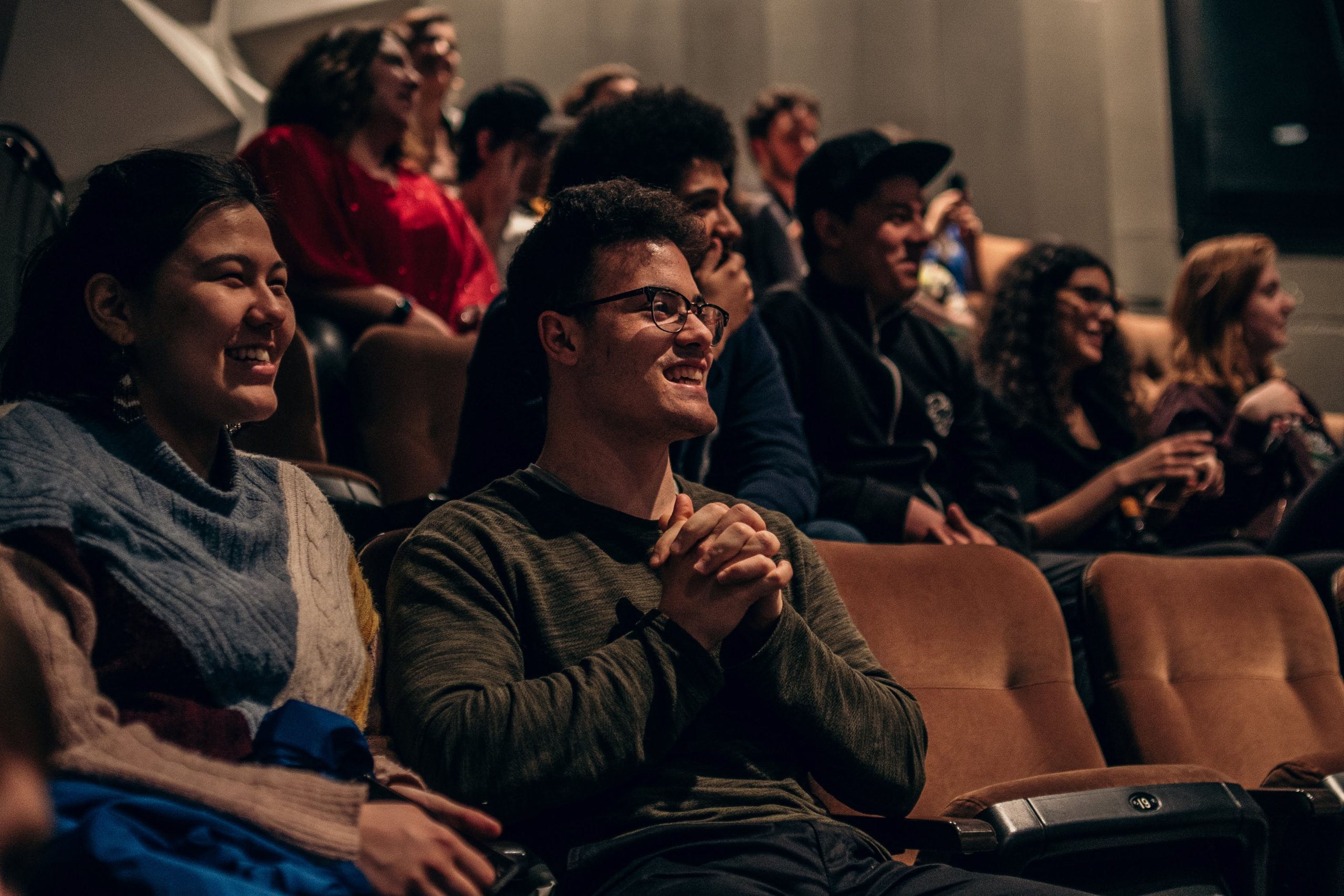 For all of you who aren't familiar with Media Night, it's a chance to have the film you have created showcased in the Dawson Theater. Media Night is a public event at the Dawson Theater that showcases films and other media-related projects made by students in the Cinema + Communications Profile and ALC program in a public event held at the end of term. Parents, teachers, colleagues and friends attend the event. The projects are judged by media experts and awarded prizes such as best sound design, best documentary, etc. The selected films will not only be seen by your fellow classmates, but by qualified judges who will determine if your film is worthy of an award. Whether you submit a film or not, come on down with a friend to support the CinCom community!
– The director of the film must be an enrolled Dawson student at the time of submission.
– The film must be no longer than 4 minutes in length.
If your file is too large to upload to the free version of Vimeo it is because your data rate is too high for Vimeo. Use this guide to export your movie for proper Vimeo compression: Vimeo compression tutorials.
Make sure your film audio levels are to the standard of -12db for dialogue. You don't want your film to be too loud or too quiet. 
Best Documentary
Best Fiction
Best Animation
Best Experimental
Best Sound
Best Editing
Best Direction
Best Cinematography
Media Night will be held in the 180 seat Dawson Theatre located on the campus at 2000 Atwater Ave, Montreal, Quebec, H3Z 1A4. Please arrive up to 30 minutes in advance.
BEST EXPERIMENTAL MOVE: Comfortably Numb

(

Russell Yendzio)

BEST DOCUMENTARY MOVIE: The Entertainer

(

Lea Joy Sabbaghian)

BEST ANMATION MOVIE: Lumpia

 (

Shaina Franetti)

BEST FICTION MOVIE: Separate Symposia

(

Caleb Gales)

BEST 1ST YEAR MOVIE: Connection

(

Ana Camila Torchia)

24hr MOVIE CHALLENGE – AUDIENCE AWARD:

 

It Doesn't Wash Off
ACHIEVEMENT IN WRITING:

There's So Much More I Wanted To Say

(

Svetlana Bilerman)



ACHIEVEMENT IN SOUND: Red on the Wall (

Luke Bazin)



ACHIEVEMENT IN EDITING:

Hysteric Nelly

(

Omar Sameh Mohamed)



ACHIEVEMENT IN CINEMATOGRAPHY:

Places We Will Walk

(

Clarisse Boutin)



ACHIEVEMENT IN DIRECTING: Personal Funhouse (

Sarah Kate Foster)